Indiana has an abundance of Real Estate Brokerages and REALTORS to choose from. As of January 2020, there are over 8000 licensed Real Estate Agents in Indiana!
Why should you choose REALINDIANA and its Agents?
REALINDIANA is a locally owned and operated Residential Real Estate Brokerage. We are dedicated to helping Indiana clients only. Our knowledge of central Indiana Real Estate is extensive and specialized.
We proudly serve our community by facilitating smooth & successful Real Estate transactions. Our clients walk away happy every time.
Locally Owned and Operated
Extensive Expertise of Central Indiana Real Estate
Fast, Friendly & Fair Customer Service
Home Price Range of $30 thousand to $4 Million+
Skillful Negotiations Originating from Strength
Full Transparency in All Stages of the Transaction
Clear and Concise Advice
Buying a Home
No-Rush, Unlimited Showing Approach
Knowledge of All Aspects of Home Construction & Maintenance
Detailed Comps for Accurate Offering Price Advice
Quick Response Time with Agile Use of Technology
1-Hour Rapid Offer Ability in Competitive Markets
Fair, Detailed and Thorough Inspection Responses
Trusted Inspectors, Contractors & Vendors
Listing a Home
All Homes are Treated the Same No Matter the Price
Professional Photography and Creative Descriptions
1-Day Contract-to-Market Rapid Listing Ability
Expert Use of Social Media to Get You More Exposure
Fewer Days-On-Market & Higher Offer Prices
Competitive 4% Listing Fee With Next Home Purchase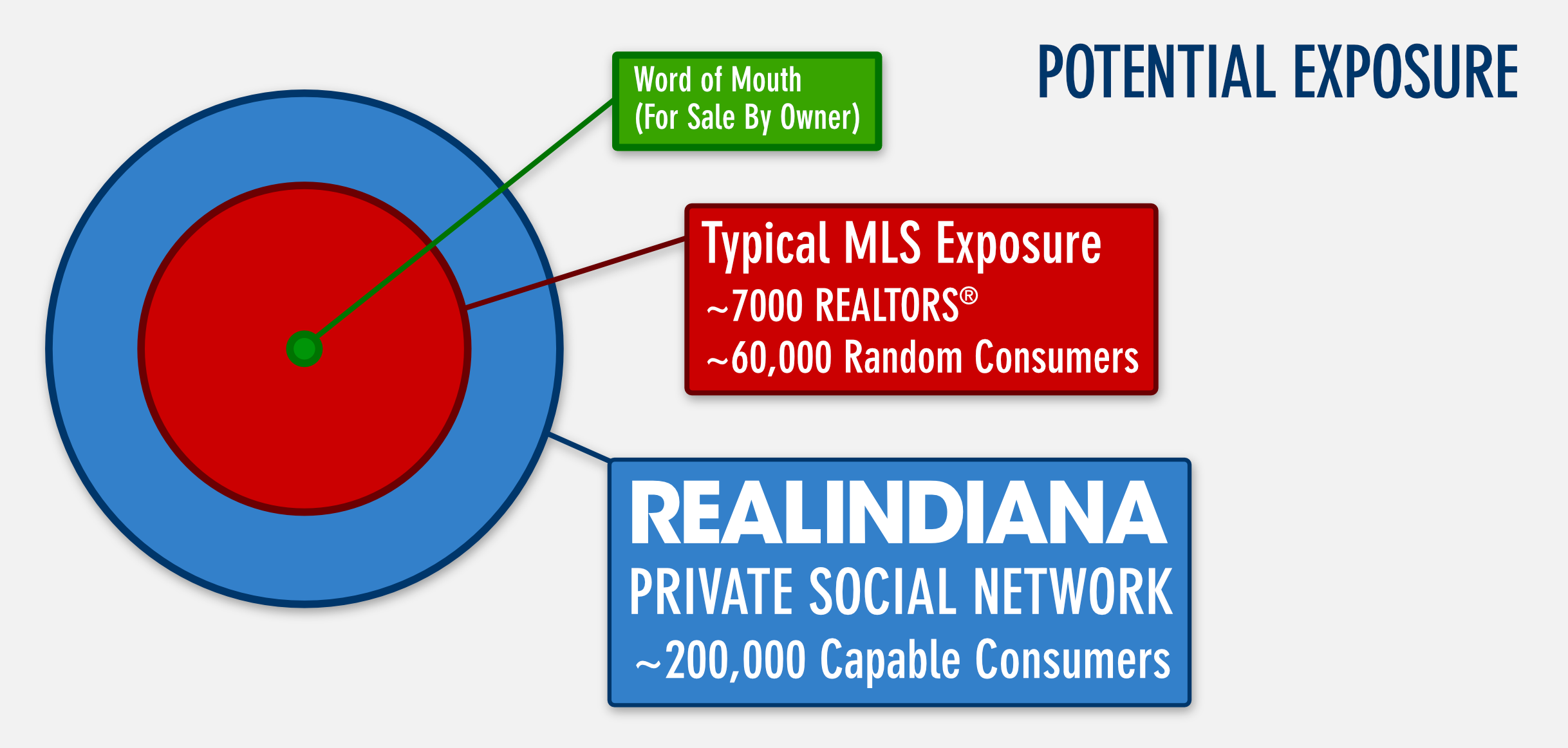 REALINDIANA's proprietary Private Social Network gives home owners a substantial advantage no other brokerage can offer. Our custom audience is a private database of consumers gathered through years of extensive trial and error, over $20k of personal ad spend, and constant research into the latest effective techniques. This audience allows us to market your home to a much wider base than a typical brokerage provides, giving you a better chance of finding the right buyer.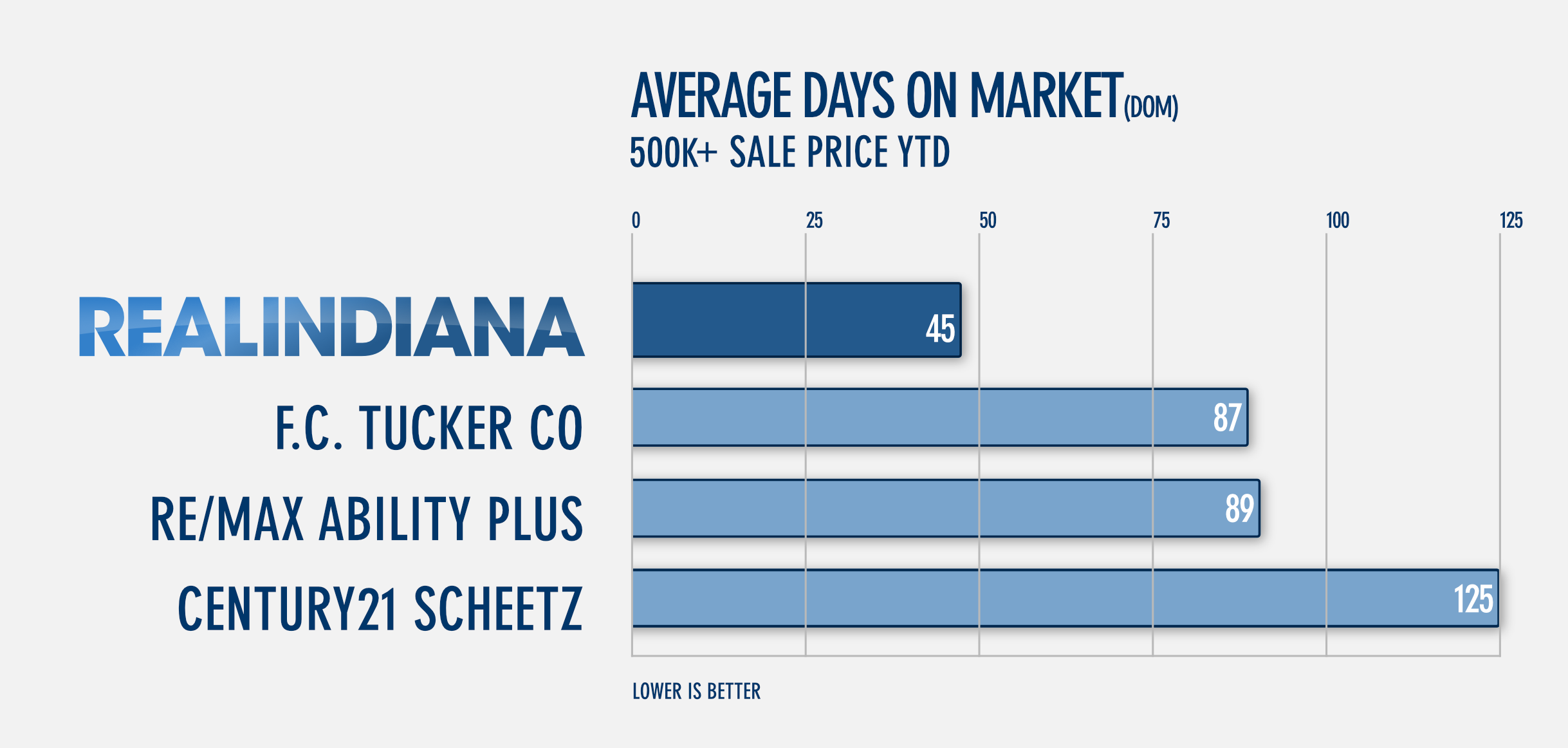 We aim to help you sell your home as quickly as possible, but also for the highest dollar possible. DOM or "Days on Market" reflects how long a listing has been on the market. Buyers and their Agents will look at this number to determine if a house is desirable or showing any red flags for dismissal. A house can sit on the market for a variety of reasons: overpricing, poor condition, lackluster photos, or unreasonable Sellers. To combat this, REALINDIANA creates professional grade listings and also advertises your home to our proprietary Private Social Network of capable consumers. This extra exposure brings more potential buyers and generates offers in fewer days, giving you a better chance of selling your home near your asking price!

Our base rate to list a home 200k or below is a competetive 5.25%, and even lower if your home is above 200k. We will credit you 1.25% of the sale price on the first home if you also use us to purchase your next home! This means you could list your home for 4% total. Helping you sell your home and also purchase your next home is a Win-Win for all parties, and it allows us to give back to the clients that help us the most!
Call, text, or email us today for a FREE on-site consultation!
Sincerely,
Kane Lauck
REALTOR®
Managing Broker & Owner
REALINDIANA CO
(317) 660-5732
kane@realindiana.com